Description
Thanks for looking at our listing for this Sinclair ZX Spectrum 48k rubber key
This really is another nice Spectrum that we are selling from our collection of retro computers and comes with 11 original games.
Issue 3B Board
Work done:
Changed voltage regulator
Full recap – replaced all electrolytic capacitors
Composite mod performed – replaced the innards of the RF modulator with a PCB that will let you use the RF phono socket on the back of the Spectrum to connect to a newer TV AV socket
Power socket replaced
TR4 Replaced
IC15 socketed and replaced
ROM replaced
Replaced ULA with tested 6C
New feet
New keyboard membrane fitted
Cleaned the cases inside and out
Re-capped PSU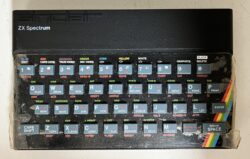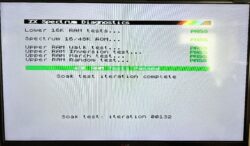 Serial Number: 001-014455
The Speccy even has its original faceplate which still has its protective cover.  See pictures for detail.
It has been tested for 2 hours using a diagnostic ROM.  Tape loading has also been tested using a MaxDuino so none of the included games have been tested.
This is a genuinely nice Sinclair ZX Spectrum 48k.  See pictures for detail.