Description
Thanks for looking at our listing for this Sinclair ZX 81, Issue 3 Board
In great condition for its year.
Comes with the original one-piece membrane keyboard on the front and has been upgraded to work on new TV's.
Selling it with a  boxed 16K RAM Pack.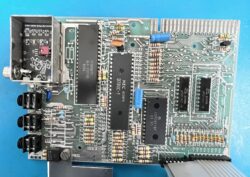 With the exception of the comp mod it retains its 1980's authenticity!
In good working condition. 
Quite A Nice Tidy Machine.
Comes With:
Original Sinclair Power Supply Unit
Ideal For A Vintage Computer Collector Or Sinclair Enthusiast.
If you have any questions then please let me know.
The little man even has new rubber feet to replace the old stinky shoes he used to have!
If you have any questions about this Sinclair ZX81 computer or any of the other computers or modifications on our site then please do not hesitate to contact us.