Description
This Atari65 XE is one of those 65XE's that has the 130XE motherboard inside.
To turn it into a full 130XE with 128K memory, all you need is to populate the remaining 8 empty RAM slots with compatible 4164 DRAM chips and sockets, and add an EMMU. Contact us if you want more information, or want us to make the modification for you for a fee.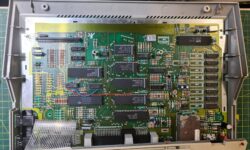 Work carried out:
Cleaned the board thoroughly and removed the rusted out RF shield (which is not required)
Replaced all electrolytic capacitors with good, new aluminium types
Tested the machine thoroughly with Syscheck II diagnostics and the Atari Salt diagnostic. Both were run continuously for 1hr.
Comes with original PSU and whilst it works well, we would recommend replacing it with a suitable 2amp 5v PSU which can be obtained through eBay or Amazon.
The cases were cleaned inside and out. There is some yellowing to the case and the keys with age but the keyboard has been taken completely apart and each key has been thoroughly cleaned and put back. The entire keyboard assembly has been cleaned and tested. All keys work fine and the keyboard is once again not sticky or mucky!
Atari 1050 Disk Drive with Power supply
The Atari 1050 disk drive. What more to say really? Getting harder to get nowadays, but this one has been fully repaired, cleaned and had the electrolytic capacitors in the power section replaced.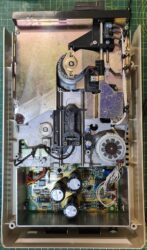 Work carried out:
Drive was full of white powder. I think this is aluminium oxide which happens when the drive is stored in a damp place. The drive was completely taken apart and all parts were cleaned thoroughly.
Drive spindle circlip was broken off, so the spindle was taken apart, cleaned, lubricated and the circlip replaced.
All moving parts (drive rails etc.) were lubricated after cleaning.
New drive belt fitted.
Heads were cleaned.
Drive initially did not work. There was no +12v present. Capacitors in the power section were dried out and the +12 regulator was dead. All capacitors in that section were replaced with good quality aluminium electrolytic capacitors and the +12 regulator was replaced with fresh thermal compound.
Drive calibration and RPM was then tested. All tests with the Atari 1050 diagnostics disk passed with flying colours.
We then formatted several disks and loaded several pieces of software from the drive – worked fine.
The cases have been cleaned inside and out – there is some yellowing to the case with age. The drive comes with it's original Atari power supply and the SIO lead.
Serial Numbers:
Atari 65XE – A1793 030835
1050 External Floppy Disk – 55733 434
Condition is Seller refurbished.
Any questions then please do not hesitate to contact us.
To learn more about the Atari 65XE check out the Centre for Computing History website.